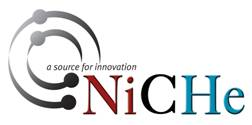 NiCHe Materials Limited is a UK Company, operating since 2010 with the specific aim to source hard-to-find / commercially unavailable materials globally. Within 2 years NiCHe Materials had already been approved at 4 of the top 5 Global Catalogue Companies. We supply 'Not in Catalogue' (NIC) items and bring decades of sourcing experience to our customers.
Today, we have customers in more than 30 Countries on 3 Continents across 10 different markets.
Our global customers operate in the following markets:
Semiconductor/ Printed & Micro Electronics and PhotoVoltaic
Microbiology / Diagnostics and Electrophoresis
Pharmaceutical  (Contract Development & Contract Manufacturing) / Veterinary and Biopharmaceutical
We supply various high purity chemicals from gm / kg to semi-bulk quantities, depending on the material and all managed by people who know and understand the business.
On-going projects include:
'Lost Source' Project for Global Catalogue Company
Dual Source Project (Chinese & Indian Sources) for UK Toll Manufacturer
Vendor Reduction Programme for UK Pharmaceutical Company
Contract Manufacture of various heterocyclic materials for Organic Semiconductor / Printed Electronic Applications
High Purity Materials for Indian PhotoVoltaic Applications
On-going  Contract Manufacture for Pharmaceutical / Biopharmaceutical / Diagnostic Companies
Hazardous Chemicals in solution for EU based Pharmaceutical / Veterinary Customers
Source and supply cGMP quality materials for USA / Canadian Customers
In Summary

We have manufacturing partners offering a diverse range of chemistries, in all of the low cost regions, supplying products to our global customers.  If you are searching for novel materials or need an alternative source of material, we would welcome the opportunity to work with you.
What brings our projects together? The 'term' and 'the team' at NiCHe Materials.
8 Haynes Avenue, Poole, Dorset, BH15 2ED, UK
Go Back