For over 30 years, manufacturers of basic, industrial, agro, special, pharmaceutical fine, performance and domestic chemicals, together with users from industrial and academic establishments have been turning our pages to know Where To Buy Chemicals, Plant and Services.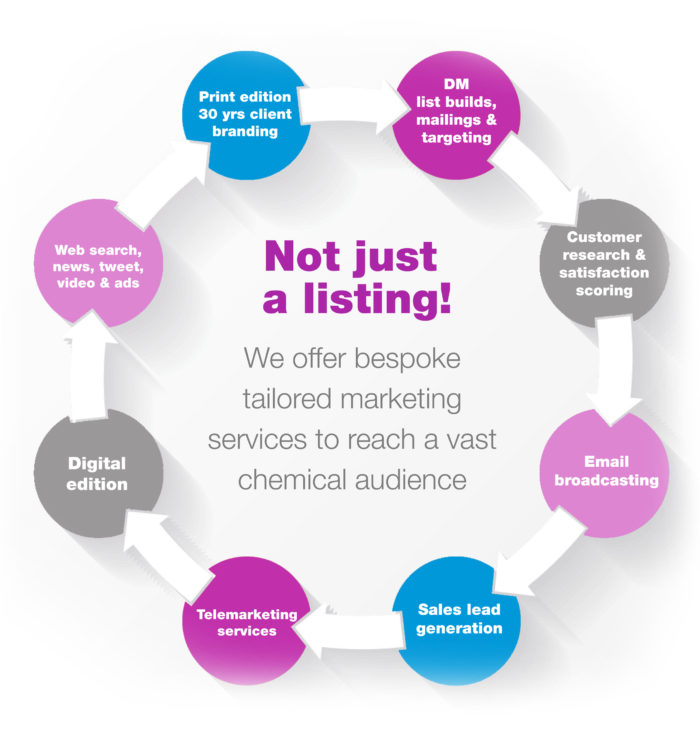 Today, the Where To Buy directory reaches a truly world-wide 170,000 audience and guarantees an increased distribution amongst chemical buyers from a wide range of industries. Whether in printed hard copy published every June, digital editions or our new online search engine playing host to thousands of products, services and suppliers we have it covered. Each entry into the Where to Buy Directory automatically appears in all 3 elements at a single price of GBP38.00 / USD60.00 per entry. Packages available.
Order this current year's print copy now released in June
Just click here for a copy to be delivered directly to your door.
Video Hosting & Production Services
Did you know Where to Buy Chemicals can now host your company's video for direct viewing all year round to potential buyers? Need corporate video produced – brief our editing team to produce your movie from start to finish. Video production and editing services here
View an example live video here
Customer Satisfaction Scoring – Bespoke Research
Let Where to Buy independently research and score your customers levels of expectation and your own company's performance to each customer, how they rate you, your staff, delivery … revealing a true accurate and impartial measure of your business strengths and weakness areas to focus on.
Also an excellent source of immediate sales leads!
E-Broadcasting
Quarterly email broadcasts guarantee your message gets across!
Stand alone bespoke client broadcasts are delivered to thousands of in boxes under the Where to Buy trusted identity and are fully track able for open rate reports, click through rates and bounce. Designed, transmitted and reported all for you and targeted to our international or UK databases.
For all enquiries, please contact: sales@w2bchemicals.com