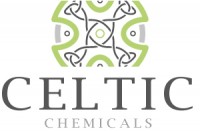 At Celtic Chemicals we manufacture, process & distribute specialty mineral salts for niche markets.

The company was established in 1979, starting its life as a trading company before launching its small production facility to supply inorganic metallic salts to the laboratory reagent market.
Since then our expertise and production capability has grown, and we now manufacture and supply a greater range of products into a variety of markets;
Click below to read more on each sector
A significant part of the Celtic Chemicals product range is manufactured in-house. Custom formulations are undertaken and products developed to meet customer specifications. The majority of Celtic Chemicals' plant & equipment is multi-purpose enabling development projects to take shape in a matter of weeks.





Our manufacturing techniques include;
Precipitation
Crystallization
Simple neutralisation
Two-stage neutralisation
Controlled thermal dehydration
Raw materials for production & finished goods are analysed by a range of techniques;
Atomic Absorption Spectrophotometry, with vapour generation
Volumetric Analysis; Complexometric/Colorimetric/Argentometric/Iodometric
Karl Fischer
"With over 30 years of trading, we have built an extensive network of worldwide manufacturers, if the product you require is not on our product list, consult our sales staff who will be pleased to help source the right product for your needs."
Quality and Accreditations:
Celtic Chemicals is constantly changing and improving the business, quality is key in our progress…
FEMAS
Celtic Chemicals gained FEMAS accreditation in April 2014. This quality standard ensures animal feed grade ingredients meet stringent quality criteria.
"Celtic's animal health and nutrition customers can rest assured they're buying quality, fully traceable , regulatory compliant minerals".
Click here to download FEMAS Certificate
ISO 9001-2008
Celtic Chemicals have achieved and maintained the standards of ISO 9001-2008 since 1993. ISO 9001 is an internationally recognised standard for quality management systems, ensuring proven processes are in place to meet high customer service.
Celtic undergo a stringent annual audit by an independant certification body – BSI.
Click here to download BSI Certificate

In addition Celtic Chemicals is registered and compliant with:
EC 183/2005

– Hygiene of Feedstuffs

EC-852/2004

Hygiene of Foodstuffs
Approval number: GB 563E00002
We are registered and compliant with relevant food hygiene legislation- approval no: 2752.
Celtic Chemicals have a dedicated quality team responsible for our continuous improvement. We are currently working towards BRC accreditation.
Unit 25 Kenfig Industrial Estate, Margam, Port Talbot, West Glamorgan, SA13 2PE, UK
Go Back