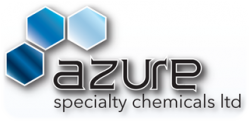 Azure Specialty Chemicals Limited was set up in 2013 as a specialist sourcing and supply company servicing the Fine Chemical, Pharmaceutical and Life Science industry worldwide.
Our main focus is to assist clients by utilising our extensive network of producers for "hard-to-find" fine chemicals and advanced intermediates that are not commercially available. We regularly out-source custom synthesis projects, where the client needs a product as a key intermediate, but no obvious commercial producer is available. This can be achieved as a technology transfer, where the client provides an information package under secrecy agreement, or by matching the producer's own in-house expertise allowing them to offer a completely new product from R&D to production.
We have built up a unique pool of knowledge and expertise in specific markets and compiled a reliable database of products and accredited suppliers with a proven track record of high quality, timely delivery and competitive pricing. Particular emphasis is on the supply of antibiotics, electronic chemicals, organic intermediates, diagnostic reagents, APIs and heterocyclic building blocks.
We pride ourselves in devoting our time and effort to building special relationships based on mutual understanding with our clients and producers alike, with a diligence and tenacity that sets us apart from any other chemical supply company.
Whether you are searching for specialty intermediates and rare chemicals or a more competitive source of an existing product, Azure should be your partner of choice.
Our customers and suppliers are managed by people with extensive experience and technical expertise in specific markets. Customer projects are undertaken for the following industries;
Fine Chemicals – Custom synthesis and manufacture of specialty chemicals and advanced intermediates
Life Science – Cancer Research, Diagnostic Raw Materials, Microbiology and Molecular Biology
Pharmaceutical – Intermediates for APIs (Pharmaceutical & Agrochemicals) and Heterocycles for Medicinal chemistry

Electronic Chemicals (liquid crystals, CTMs, SAMs, etc.)
Advanced Intermediates
Antibiotics
Clinical Diagnostic Reagents
Fine Chemicals
OLED Intermediates
Custom Organic Chemicals
Biochemicals
Heterocyclic Building Blocks (N and S containing compounds)
Chemical Procurement Services
Sales & Marketing
Consultancy Services
Auditing Services
Click for Azure Company Brochure 2014
Summary
Azure Specialty Chemicals is a specialist sourcing intermediary company locating hard to find molecules and rare chemicals. We offer storage, custom packaging and full distribution / shipping services.
"We are committed to delivering a fast, high quality service and cost effective solutions."
46 St Mary's Road, Poole, Dorset, BH15 2LL, UK
Go Back